Learn Mridangam lessons free !!! Tani Avarthana with notes and grammar with easy to learn approach. Adi Tala, Rupaka Chapu Tala. Kanda Chapu Tala, Misra Chapu Tala and more ... It's FREE Download
Carnatic Music is divine and so is the main instrument Mridangam in both as accompaniment and solo.
Audio Lessons and MP3 player demo Mridangam and Music Download
Welcome
!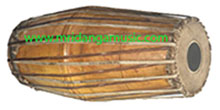 GENUINE CLASSES
MRIDANGAM
PRACTICAL TRAINING
SPIRITUAL APPROACH. Nuances of Mridangam, Beginner to Professional level
Traditional Classical Value Good fingering techniques for mellifluous sound
SINCE 1993, Classes are conducted at "LAYAVIDHYAMANDHIR" in Chennai, Tambaram Sanatorium.
Special Paste
about
Special mridangam paste is a great companion and booster of interest in playing Gamaka effects with ease. Special paste is white in color.
This special Paste is very much the best and superior to play-dough or clay.
It maintains its viscosity for long period, even if it is in open air and when protected from dust.
It is soft and gentle on fingers/hands enabling mridangam players to play comfortabily. The special paste can be removed and reapplied. You can Buy Mridangam Special Paste at our Website: www.mridangams.com
Merits
of Special Paste
Carrying water along for playing mridangam is a trouble, because for mixing Rava/Wheat flour water is needed. More over while playing, one has to wet the left head frequently. Frequently wetting the "thoppi/left head decreases the life span of the Skin tone and the mould. Imperfect wetting leads to decreased bass effects and professional sound. Special paste removes all these drawbacks and is a great enhancement product for mridangam players across the world.